Bernell, Bonnie. Bountiful Women. Berkeley: Wildcat Canyon Press, 2000.
Blank, Hanne. Big Big Love. Emeryville, CA: Greenery Press, 2000.
Bruno, Barbara Altman. Worth Your Weight. Bethel, CT: Rutledge, 1996.
Erdman, Cheri. Nothing to Lose: A Guide to Sane Living in a Larger Body. San Francisco: Harper, 1995.
____________. Live Large! San Francisco: Harper, 1997.
Gaesser, Glenn. Big Fat Lies: The Truth about Your Weight and Your Health. New York: Ballantine, 1996.
Goodman, Charisse. The Invisible Woman: Confronting Weight Prejudice in America. Carlsbad, CA: Gurze, 1995.
Johnson, Carol. Self-Esteem Comes in All Sizes. NY: Doubleday-Bantam, 1995.
Lawrence, Marilyn (Ed.). Fed Up and Hungry: Women, Oppression and Food. New York: Peter Bedrick Books, 1987.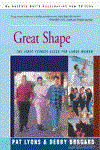 Lyons, Pat, and Burgard, Debby. Great Shape: The First Fitness Guide for Large Women. NY: Morrow, 1988.
Millman, Marcia. Such a Pretty Face: Being Fat in America. NY: Norton, 1980.
Schoenfeld, Lisa. Shadow on a Tightrope: Writings by Women on Fat Oppression. Iowa City: Aunt Lute Press, 1983.
Schwartz, Hillel. Never Satisfied: A Cultural History of Diets, Fantasies, and Fat. NY: Free Press, 1986.
Solovay, Sondra. Tipping the Scales of Justice. Amherst, NY: Prometheus Books, 2000.
Sullivan, Judy. Size Wise. NY: Avon, 1997.
Thompson, Becky. A Hunger So Wide and So Deep. Minneapolis: University of Minnesota Press, 1994.
Wann, Marilyn. Fat! So? Berkeley: Ten Speed Press, 1998.
Weston, Michelle. Learning Curves: Living Your Life in Full and with Style. NY: Crown, 2000.
Wiley, Carol. Journeys to Self-Acceptance: Fat Women Speak. Freedom, CA: Crossing Press, 1994.